Canopy by Hilton, a renowned hotel brand known for its unique and stylish design, is making its highly anticipated debut in the vibrant city of San Francisco. I had the pleasure of experiencing the exceptional offerings of Canopy by Hilton during my stay in this bustling metropolis. From its thoughtful design details to its remarkable amenities, this hotel truly embodies the essence of contemporary hospitality.
Design Details
Upon entering Canopy by Hilton, I was immediately struck by the impressive design details that set the hotel apart. The lobby exudes a modern yet welcoming ambiance, combining natural materials, warm lighting, and comfortable seating areas. The attention to detail is evident in the carefully curated artwork, which not only enhances the aesthetic appeal but also creates a sense of connection to the local culture and community. The design elements seamlessly blend style and comfort, providing a delightful space for guests to relax and unwind.
Shelby's Rooftop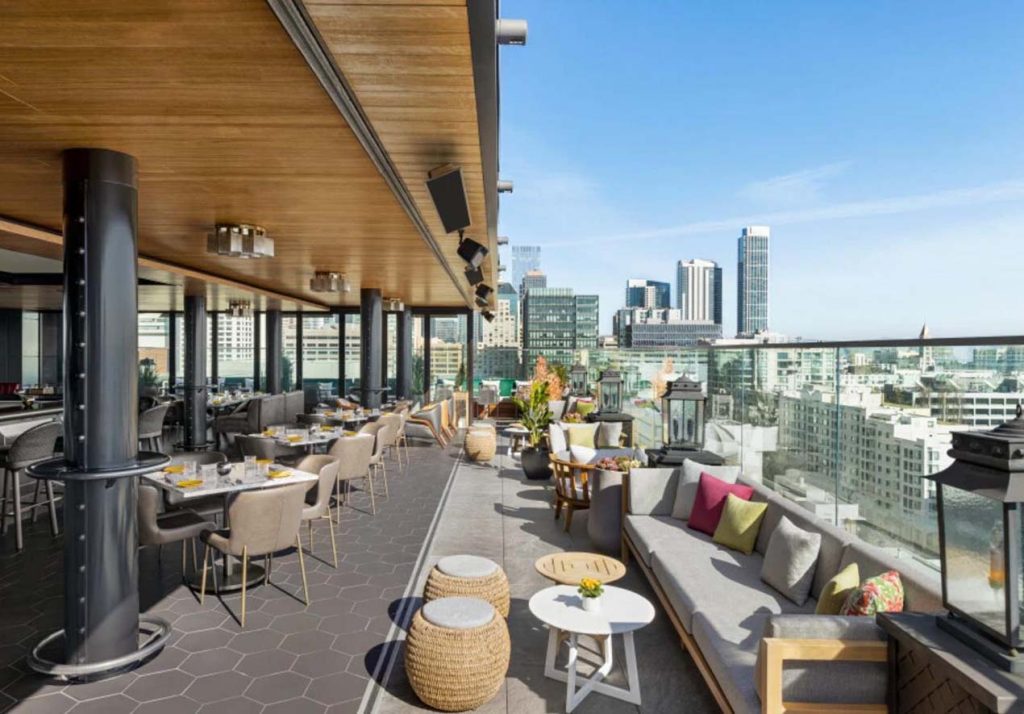 One of the highlights of my stay at Canopy by Hilton was the stunning Shelby's Rooftop. Perched atop the hotel, this rooftop bar and lounge offers breathtaking views of the iconic San Francisco skyline. Whether sipping on a refreshing cocktail while watching the sunset or enjoying a peaceful evening under the stars, Shelby's Rooftop provides an unforgettable experience. The ambiance is elevated by the captivating scenery, creating the perfect setting for creating cherished memories.
The Social Restaurant
Canopy by Hilton proudly boasts The Social Restaurant, a culinary haven that showcases the vibrant flavors of San Francisco. The menu features an array of dishes crafted from locally sourced ingredients, paying homage to the city's diverse culinary scene. From delectable farm-to-table options to mouthwatering seafood delicacies, The Social Restaurant offers a delightful gastronomic journey for guests to savor. The inviting ambiance and attentive service further enhance the dining experience, making it a true culinary delight.
Canopy Bikes
Exploring the enchanting city of San Francisco is a must for any traveler, and Canopy by Hilton offers a unique amenity to make the experience even more convenient and enjoyable: Canopy Bikes. As a guest, I had the pleasure of taking advantage of this complimentary offering and pedaling my way through the city. The bikes not only provided a fun and eco-friendly mode of transportation but also allowed me to immerse myself in the local atmosphere. I discovered hidden gems, iconic landmarks, and charming neighborhoods, truly experiencing the city like a true San Franciscan.
Queen Corner Room – City View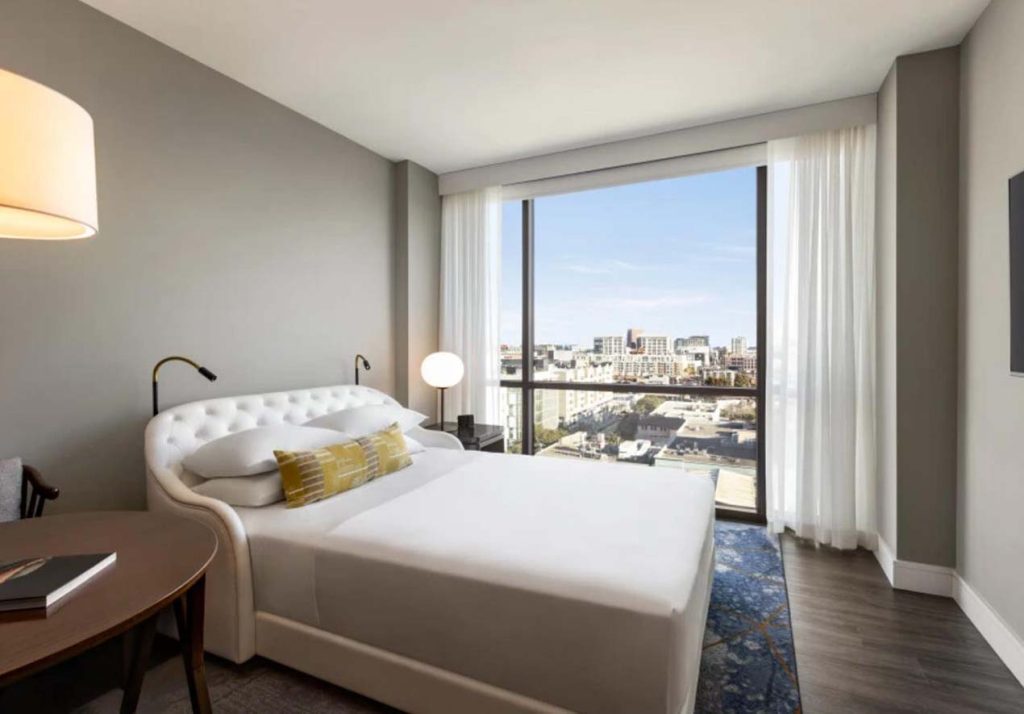 During my stay at Canopy by Hilton, I had the pleasure of staying in their Queen Corner Room with a breathtaking city view. The room exuded comfort and style, featuring a plush queen-sized bed, contemporary furnishings, and floor-to-ceiling windows that offered panoramic views of the mesmerizing San Francisco skyline. The thoughtful layout and attention to detail created a welcoming ambiance, making me feel right at home. Waking up to the stunning cityscape was a true delight, adding an extra touch of magic to my stay.
Canopy by Hilton's debut in San Francisco has undoubtedly stirred excitement within the hospitality industry, and my personal experience staying at this exceptional hotel only solidified its reputation as a top choice for travelers seeking a memorable and stylish stay. With its impeccable design details, enchanting Shelby's Rooftop, delectable offerings at The Social Restaurant, convenient Canopy Bikes, and inviting Queen Corner Rooms, Canopy by Hilton in San Francisco offers an extraordinary experience that seamlessly combines comfort, style, and a genuine connection to the local culture. I wholeheartedly recommend this hotel to fellow travelers, knowing that they will embark on a remarkable and unforgettable journey in the vibrant city of San Francisco.